You are never too young to start making a difference! This was proven by JRW fourth grade student, Alex Barnes. Last September, SHS student Addie Moore was in a car accident and was seriously injured. Alex has been friends with Addie's sister Violet since Kindergarten and was very distraught about the accident. He knew that the family needed some support with...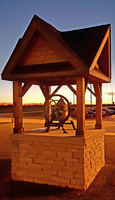 On March 19th in all three Somonauk CUSD #432 buildings, all students and staff participated in an Intruder Drill. Students and staff executed new options and procedures to ensure safety and preparation in the event of a real safety threat. We will continue to review and improve our plans as the safety of our students and staff are our highest priority. Thank you...
Somonauk alum, Alex Dale, is having her work in photography displayed at an art exhibit entitled "See you at the Show". We are proud of Alex and hope you can get to the Waubonsee Community College-Aurora Campus for the exhibit. Click on the link for more information.https://calendar.waubonsee.edu...