SAVE THE DATE SMS Picture Day August 24

Attention 7th & 8th grade Student Athletes! If you are interested in playing Volleyball or Soccer in the fall, please contact the office.
morrisa@somonauk.net
Go BOBCATS!

Yesterday, your Bobcat soccer team faced Indian Creek at home. The team knew this would be the hardest battle they would face all season. From the start of the game both teams brought high intensity and determination to win. One of the first players to highlight is our goalie, Weston Hannibal, with 19 amazing saves. Our back line of Silas Johnson, Will Mosley, Danielle Rankin, Tanner Daniels and Patrick Short had great defensive plays up to the midfielders, Karter Nelson, Kadyn Haage, Mason Smith, and Benson Gudmunson. Big first goal scored by Cole Gudmunson assisted by Alex Hoffman. The Bobcats continued their determination with a second goal scored by Aldo Resendez with the assist from Luke Wernsman. A final goal was scored by Jackson Brockway with the assist from Aldo Resendez. The Bobcats had an amazing finish to the game and came out winning 3-2!! Coach Ozarka is so proud of each player and how the team has worked so well together. Your Bobcat soccer team has been undefeated for the last two seasons! Be sure to congratulate your classmates on this great victory! Big shout out also goes out to an amazing team manager, Destiny Salgado for going above and beyond for the team.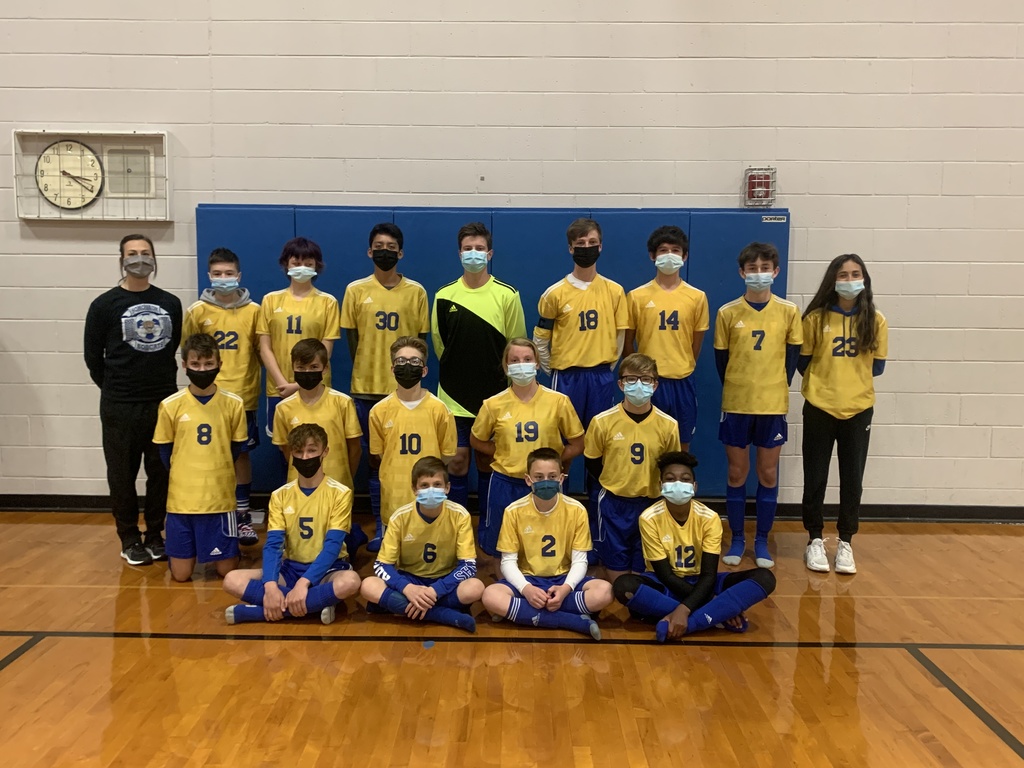 The Somonauk Bobcats Track team participated against eleven schools at the Seneca Sectional Meet, on Friday. The following events placed second or third at the Sectional: 4 x 100 Meter Relay of Brooke Bahrey, Reannah Cappi, Madeline LeCuyer and Morgan Morris placed 3rd 4 x 400 Meter Relay of Morgan Morris, Brooke Bahrey, Reanah Cappi and Ady Werner also placed 3rd Kelsey Knauf placed 2nd in the Shot Put 4 x 200 Meter Relay Team of Joey Artwohl, Dylan Jones, Jackson Brockway and Lucas Herlien placed 2nd and the 4 x 400 Meter Relay of Joey Artwohl, Jackson Brockway, Titus Banister and Dylan Jones placed 3rd ***Congratulations to the Bobcats success on our shortened season. The uniform turn-in/pizza party/awards date will be announced tomorrow.

Congratulations to 8th grader, Kaitlyn Adair. Kaitlyn and her competitive cheer team were invited to ESPN Wide World Of Sports in Orlando, FL this past weekend to compete against the top 70 teams in their Division. They took 7th place in the Nation! Congratulations Kaitlyn!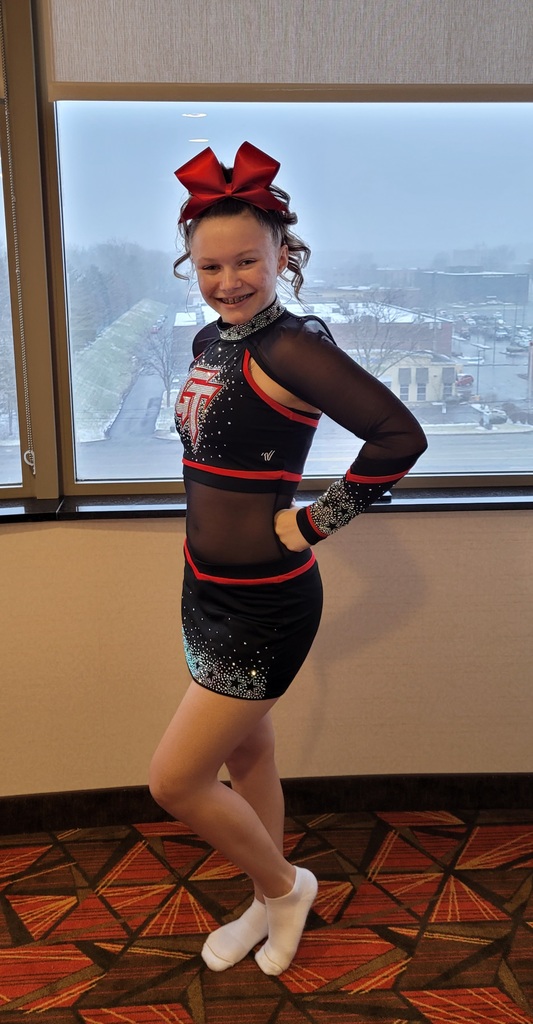 Your Bobcat soccer team played one of their hardest matches against Earlville last night. The team fought through a tough first half but only came out with one goal to start us off from Lucas Wernsman with the drive up the lane. After halftime, the Bobcats came out like a new team, with more hustle, speed and determination. Jackson Brockway scored the first goal of the second half with the assist by Cole Gudmunson. Luke Wernsman had his second with an assist by Aldo Resendez. With a great drive through the defense, Aldo Resendez scored two more goals with assists by Mason Smith and Luke Wernsman. The final goal of the game was scored by Jackson Brockway with another great drive to goal. Weston Hannibal had 7 big saves. Coach O is so proud of this team's determination and teamwork to currently stand undefeated. Your Bobcat soccer team plays again today at Paw Paw. Be sure to wish them good luck!

The SMS track meet scheduled for tonight, May 3rd, has been moved to tomorrow, May 4th, at 3:15 at Indian Creek. (335 E. Garfield St. Waterman)

The Somonauk Track Team competed at Indian Creek last Friday and here are the results. In the 7th Grade Girls Division Leah Norris placed 2nd in the 100 Meter Hurdles. The 4x200 Meter relay Team placed 2nd. The 4x100 Meter Relay team placed 2nd. Riley Lackey placed 1st in the 400 Meter Dash while Emma Rominski placed 2nd in the event. In the 200 Meter Dash Reannah Cappi placed 1st. In the 800 Meter Run Junia Johnson placed 2nd. In the 4x400 Meter Relay the 7th grade team placed 1st. In the 8th Grade Girls Division Kelsey Knauf placed 1st in both the Discus and Shot Put. In the 7th grade Boys Division Jackson Brockway placed 2nd in the Long Jump. Joey Artwohl placed 2nd in the 800 Meter Run. The Boys 4x400 Meter Relay placed 2nd. Jackson Brockway placed 1st in the 200 Meter Dash and 100 Meter Dash. In the 8th Grade Boys Division Weston Hannibal placed 2nd in the Shot Put and Discus. Weston also placed 1st in the 400 Meter Dash. Sheridan Results will be forthcoming on Thursday.

Your Bobcat soccer team played a great game last night against Serena. Big saves and goal tending by Weston Hannibal and Will Mosley. In another battle of a windy game, the Bobcats fought hard and came out with another win 8-1! Great goals by Benson Gudmunson with 2, Alex Hoffman with 2, Mason Smith with 1, Landin Stillwell with 1 and Jackson Brockway with 2. Goals assisted by Mason Smith, Will Mosley, Aldo Resendez with 2, Jackson Brockway with 2, Tanner Daniels and Danielle Rankin. The team gave strong defensive pressure from Karter Nelson, Cole Gudmunson and Kadyn Haage. Big goal save by Silas Johnson with great defensive support by Calleigh Rogers and Patrick Short. Extra shout out to Dayton Rogers and Wyatt Hannibal for being super great ball boys and helping the team out so much!

Your Bobcat soccer team played a wind-filled game last night against Leland winning 5-2. Goals scored by Benson Gudmunson with 3, Landin Stillwell and Alex Hoffman with 1. Goals assisted by Cole Gudmunson with 3 and Alex Hoffman with 1. Great defense by Silas Johnson, Tanner Daniels, Kadyn Haage, and Calleigh Rogers. Goal tending by Danielle Rankin and Will Mosley. The bobcats play again today at home against Serena! Hope to see you out there cheering them on!

Last Thursday, Somonauk Track Athletes competed at Mendota. The Boys 7th Grade 4x200 Meter Relay and the Boys 4x400 Meter Relay placed 2nd. The 7th Grade Girls 4x100, 4x200 and 4x400 Meter Relays all placed 1st. Reannah Cappi placed 1st in the 100 Meter Dash. Emma Rominski placed 2nd in the 400 Meter run. Riley Lackey placed 2nd in the 800 Meter Run. Maddie LeCuyer placed 2nd in the 100 Meter Dash. Leah Norris placed 1st in the 200 Meter Dash and Kelsey Knauf placed 1st in the Shot Put. Weston Hannibal for the 8th Grade Boys Placed 2nd in the 200 Meter Dash. Friday's Indian Creek Meet will be announced tomorrow and Monday's Sheridan Meet will be announced on Thursday.

Tonight's SMS Soccer game vs Leland has been canceled due to weather. No practice.

The Somonauk Middle School TRACK meet for tonight at Indian Creek has been moved to Friday.

Yesterday, your Bobcat soccer team faced Lisbon for their first home game of the season. Strong goaltending from Danielle Rankin with 2 saves and Will Mosley with 1 save. Great defensive plays from Tanner Daniels, Kadyn Haage, and Silas Johnson. The team took another victory, winning 7-0. Goals scored by Luke Wensman with a hat trick, Benson Gudmunson, Landin Stillwell, Mason Smith and Jackson Brockway. Goals assisted by Cole Gudmunson, Landin Stillwell, Aldo Resendez, Mason Smith, Jackson Brockway and Nolan Kerley. The Bobcat soccer team plays Leland at home on Tuesday, come cheer on your classmates!

Last night our Bobcat Soccer team played an intense game against Newark. Strong defensive plays were made by Silas Johnson and Patrick Short with 8 goals stopped by Weston Hannibal. High intensity from our midfielders Cole Gudmunson, Mason Smith, Landin Stillwell and Benson Gudmunson. Great plays were made at the top by our forwards Lucas Wernsman, Aldo Resendez and Alex Hoffman. After a lot of hustle and determination, the Bobcat soccer team was able to achieve their first win of the season, winning 2-1! Goals scored by Benson Gudmunson with a great drive through all of Newark's defense and second goal scored by Aldo Resendez with a great assist by Alex Hoffman with a cross from the corner. Our next game is Thursday against Lisbon at home, hope to see you there!

Dear Parent/Guardian, This is a reminder of great news that is going to take place in our school district on April 6th 2021! Our school has partnered with Smile Programs…the mobile dentists to offer in-school dental care on April 6th 2021 at James R Wood Elementary. If you have a student who attends SMS or SHS they too will be able to receive these services! Don't delay, register today!! Even better, dental care is usually at no cost to you. All insurance is accepted including Medicaid and CHIP. For those without insurance, a low cost self-pay option is available. Convenient and comfortable Our in-school dental program saves you time and provides a safe and comfortable place for your child to receive gentle dental care from licensed local professionals. Dental care includes a complete dental exam, x-rays, cleaning, fluoride and sealants when necessary, and in some cases, restorative care such as fillings. Dental care for a healthy life Children who see a dentist regularly may have fewer health issues like: Early tooth loss caused by dental decay Gum disease Heart disease Impaired speech development Help keep your child healthy, in school and learning. If you are interested please click on the appropriate link below for the school your student is in and register your student today! Somonauk Middle School:
https://www.myschooldentist.com/SNSCIL_schsrm


Returning students should register for the 2021-22 school year by March 31, 2021. No payment needs to be made at this time. Fees are due August 1, 2021. Online credit card payments will include a service fee. Payments in cash or check can be paid in the school office. The registration process takes less than 5 minutes. Please complete the registration process as soon as possible. Please visit
www.teacherease.com
to register. Thank you.

Our Lady Bobcats traveled to Leland last night. Seventh grade made it two in a row with a dominant win over the Panthers to show who the Big Cats are! Callihan Snider, Maddie LeCuyer, Leah Norris, Kadyn Haage, Aubrey Chiavario, and Pacey Wyant all scored multiple baskets. Kaitlyn Grabow communicated on defense Morgan Morris and Abbie Hohmann chipped in a hoop each. We passed the ball much better-keep improving girls! 8th grade made a valiant comeback to take the lead late in the game but ran out of time. Danielle Rankin, Havyn Carico, and Calleigh Rogers led the scoring parade while Abby Hohmann and Aubrey Chiavario chipped in with a bucket. Our defense has improved. More work will make us even better.

Our Lady Bobcat Basketball team traveled to Lisbon last night for two games. In the opener, seventh graders knocked off the home team 36-10. Five Bobcats scored multiple baskets: Maddie LeCuyer, Leah Norris, Abbie Hohmann, Kadyn Haage, and Pacey Wyant. Callihan Snider and Kaitlyn Grabow applied relentless defensive pressure. Morgan Morris secured several rebounds and Aubrey Chiavario assisted on multiple baskets. Our passing improved as the game progressed. In the night cap, a slow start spelled doom for the Cats. However, we did outscore the Lions 7-2 in the second half. Pacey Wyant, Aubrey Chiavario, Maddie LeCuyer, and Callihan Snider rebounded wayward shots. Danielle Rankin, Abbie Hohmann, Kadyn Hagge, and Aubrey Chiavario assisted on baskets. Havyn Carico, Danielle Rankin, Cal-Rogers, and Kayden Hagge scored points. We played well once we settled in. Check the Leland Middle School Facebook page today at 4:00 pm to watch our girls against the Panthers.