On Friday, the 8th grade volleyball team played against Earlvillie. Once again, the girls fought hard but fell short in three games. Aubrey Chiavario was the leading server. The team plays HBR tonight at HBR.

The 7th grade girls volleyball team lost on Friday night against Earlville on their home turf, but not without a fight. Bella Rolf and Kaydence Eade covered the net with some good sets, while Payton Reyes and Ady Werner covered the back row like champions. They will be playing again tonight at Hinckley Big Rock. Come cheer on your lady bobcats!

Last night the 7th grade girls were up against Indian Creek and lost their game in two very close sets. Both games were point for point until Somonauk lost to some good plays by IC. Brooke Bahrey served overhand and won us some points, while Payton Reyes and Bella Rolf hustled for the ball and made some very close calls. The girls play again tonight at Earlville.

Yesterday the 8th grade volleyball team played Indian Creek and WON in two games! The girls did great serving and blocking the ball. Everyone that plays front row had either a kill or a block. They play Earlville tonight at Earlville. Let's keep the winning streak going!

Yesterday your bobcats faced off against Indian Creek and at the end of regulation it ended in a 0-0 tie. Thanks to penalty kicks by Alex Hoffman, Landon Johnson, and Landon Stillwell, the bobcats came out with the victory. Wish them luck as they take on Earlville tonight!

HOCO Parade Route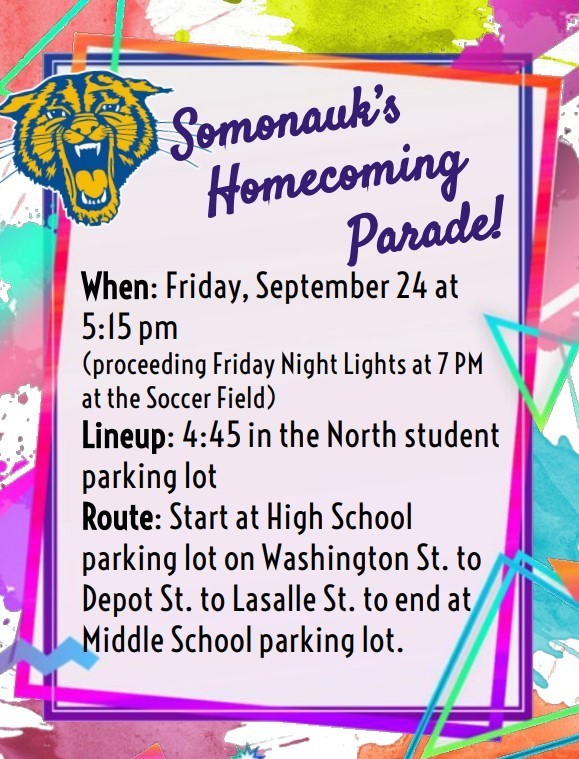 Another good game for the 7th grade volleyball team! They took home the win against Lisbon after playing 2 good sets. The team worked beautifully together, communicating and hustling for that ball! Isabella Rolf had a good move setting it over the net in a tough spot and Payton Reyes covering the back row like a champion. Tomorrow the girls will play at home against Indian Creek. Come out and support your fellow bobcats!

Yesterday, the 8th grade volleyball team played against Lisbon and lost by only 5 points in each game. Aubrey Chiavario had many assists to Pacey Wyant and Kammy Ambler for kills. The girls play again tomorrow at home.

Last night your Bobcat Soccer team took care of the Lisbon Lions at home by a score of 6-0. The Bobcats held the Lions to zero shots on goal. Goals were scored by Landin Stillwell, Patrick Short, Kadyn Haage and Cole Gudmunson with two. Great defense by Landon Johnson, Kameron Madrigal and Tanner Daniels. The Bobcats take on Indian Creek at home tomorrow at 4:15.

Yesterday your bobcat soccer team traveled to Serena and came away with a victory by a score of 7-3. Goals were scored by Alex Hoffman with a hat trick, Landin Stillwell, Caden Hamer, Jackson Brockway and Kadyn Haage all with one a piece. Landin Stillwell led the team in assists with three. Come cheer your bobcats on as they take on Lisbon at home today at 4:15!

Last night the 8th grade Volleyball team played Serena and went into three games. Stella Betsinger and Kammy Ambler did great with their pressure serving. Sadly, the team fell short during the third game. The girls have a home game today.

Last night's 7th grade Volleyball away game against Serena was close, but Serena took the win. The Somonauk girls won the first set with 25-15, and had a close loss in the last two sets. The girls had some amazing plays and awesome serves. They have another game tonight at home against Lisbon. Come cheer on your fellow bobcats!

Last night's 7th grade home game against Paw Paw was a close one, but Somomnauk took home the win. Paw Paw took the first set, but Somonauk won the last 2 out of 3. Alizaey Magana served it up back to back last night, winning the second set. The girls had good energy and worked hard to take home that win! There were many good plays and good decisions made from all the girls and they won as a team!

Last night the 8th grade volleyball team lost in 3 games. Stella Betsinger stepped up with making her serves under pressure. The girls next game is on Monday at Serena.

Your Bobcat soccer team suffered a tough loss last night in penalty kicks to a tough Paw Paw team. Goals were scored by Cole Gudmunson with 2 and Alex Hoffman with 1. Goals were assisted by Brady Andrews and Landin Stillwell. Wish your bobcats luck this Thursday against Mendota.

Lunch menu change: Tomorrow will be choice of Nachos, Pizza, Chicken Sandwich, Burger, Salad or Wrap

Any 7th or 8th grade boy interested in playing basketball, please sign up in the office by Friday. Any 7th or 8th grader interested in cheerleading, please sign up in the office by Friday.

Tomorrow is an early dismissal at 11:40. Hat's off to a great start to the school year! SMS students can wear their favorite hat to school.

The girls played a tough game last night against Newark at the Millbrook Junior High School. There were some really good volleys and the team made some good choices. It was a loss against Newark. You can come cheer on your fellow bobcats on Monday at 4:15 as they go against Paw Paw.

Last night, the volleyball team faced Newark. Although the results were not what we hoped for, the girls fought hard and showed great improvement. Pacey Wyant had amazing hussle throughout the match. Calli Snider led the team in serves, and Kami Ambler led the team in digs. The team's next home game is on Monday against Paw Paw.